Versatile Glass Block For Every Application
Whether for a window, wall, bar, shower, or simple decoration; glass block can outlast many other building products.  It won't rust, rot, or erode, has no moving parts to wear out, and when properly installed will last just as long as brick or concrete blocks yet remains translucent allowing light to be shared between spaces.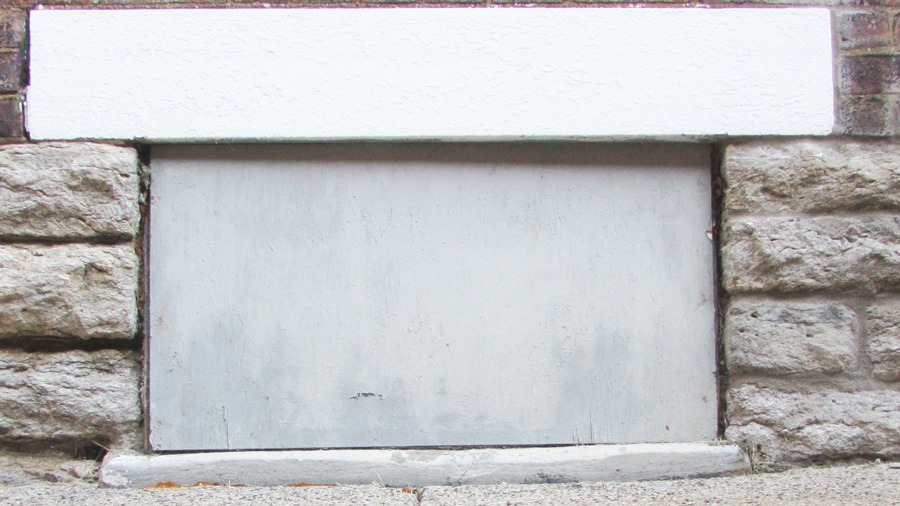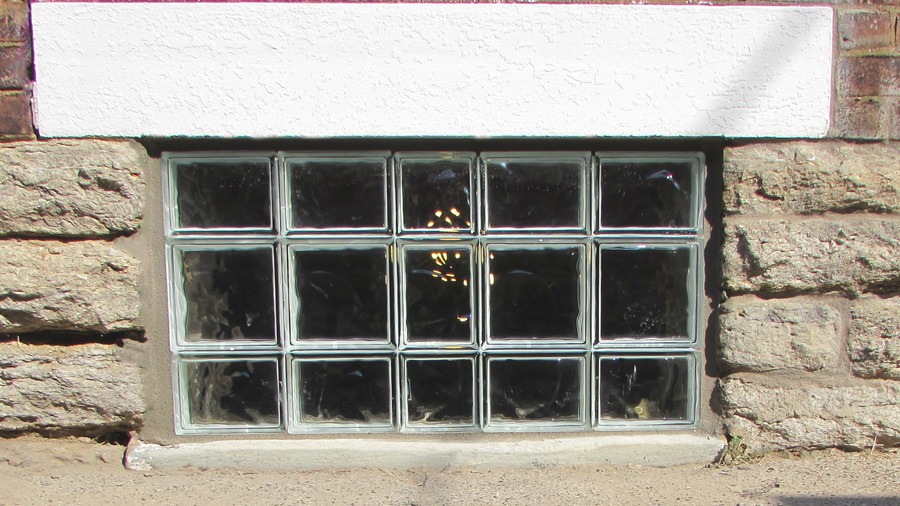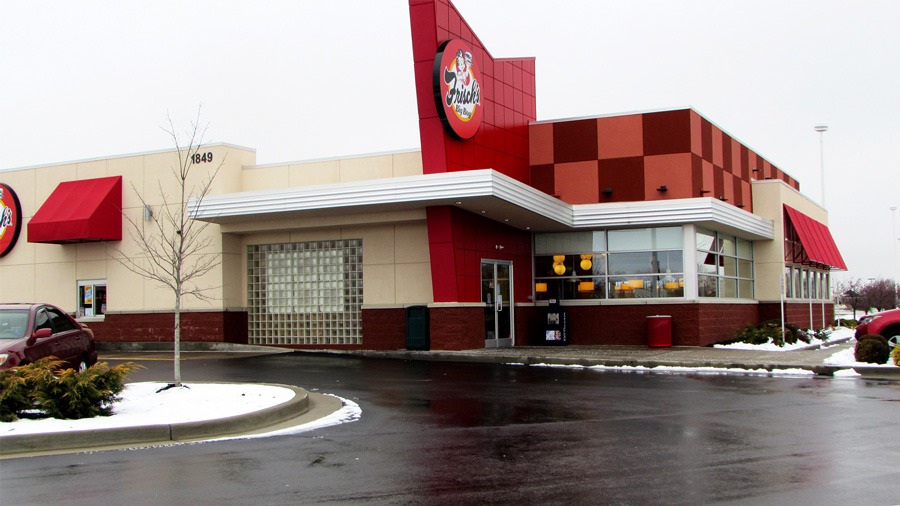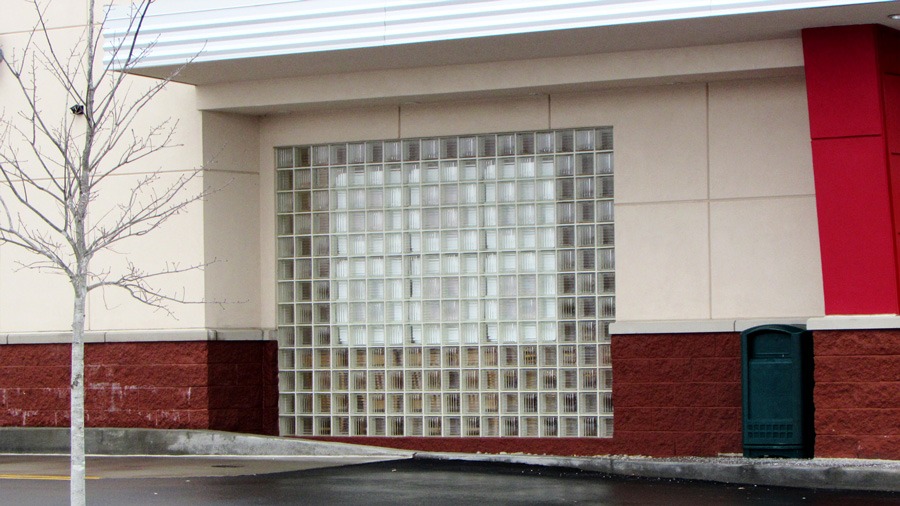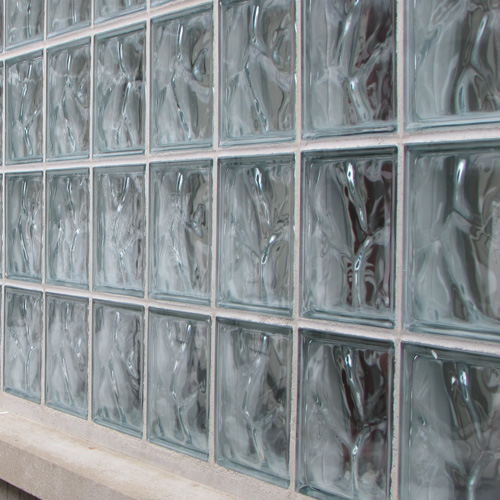 Glass Block
Glass Block is a building product that's been around for more than a half-century.  It's considered masonry and was originally reserved for commercial applications where light transmittal was required without sacrificing durability and security.
Standard 3"
Standard 3" thick glass block is the ideal choice for glass block windows.  There are 6 standard patterns to choose from that come in a variety of sizes that can be configured to make a window to fit virtually any opening size. Standard 3″ Glass Block
Premiere 4"
The Premiere 4" series is the go-to collection for commercial applications or "construct on site" applications and applications where the wall has a curve or corner.  Several of the Premiere 4" series has multiple sizes and even shapes and finished ends. Premiere 4″ Glass Block
Manufacturers
We exclusively distribute SEVES glass block.  SEVES is a formalized collection of some of Europe's most recognized glass block brands.  Vetroroaredo, WECK Glass Block, VitraBlok, Solaris, and many of the most popular products from the former Pittsburgh Corning Corp.
Wall & Floor
Yes!  In addition to typical windows and walls, glass block pavers are a thing!  They come in a variety of sizes, shapes, finishes and patterns.  Some can even be installed as wall tubes to let light in through random openings.  If you really want to learn more about glass block pavers, send us an email.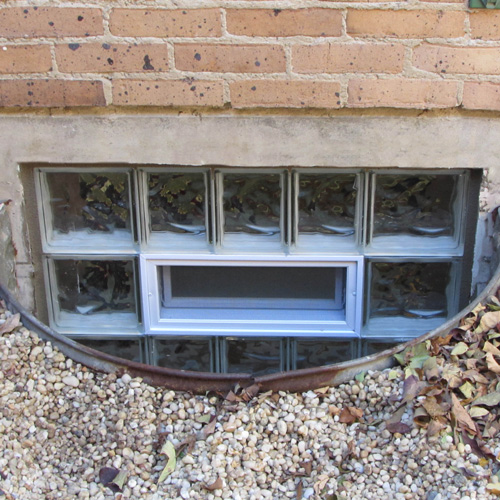 Glass Block Windows
In the early 80's, we started promoting the idea of glass block for windows for residential projects.  It was a natural fit for basement windows and we've installed more than 250,000 of them and more than 100,000 residential projects in our 40 years.
Basement
There's no denying that more glass block is used for basement windows in the US than any other application.  We install over 2,000 residential contracts each year ourselves! They're the ideal basement window.  They're weather proof, let in light, and are absolutely secure.  There's no better option for the least traveled space in your home!
Bathroom
"Privacy" only partially describes the reason for glass block in a bathroom window.  "Privacy without the need for curtains or blinds" is a better description.  Not to mention the fact that our glass block bathroom windows are virtually maintenance free and can be cleaned with any cleaner you would use on your tile, unlike some of the plastic block windows on the market.
Garage
Lawn mowers, tools, toys, bikes, and any number of other things that a thief would be eager to get their hands on are stored in your garage.  Usually, your home security system starts at the door from the garage to the house.  If a thief can't see what's in there to steal, he won't suffer the embarrassment of failing to get through our glass block window.  Basically, keep out the prying eyes and the bodies their attached to!
Vents & Accessories
Ventilation, Dryer Vents, even cat doors can be installed in our glass block windows.  Typically these things only take the place of a couple of the blocks in the window so the security aspect is not affected.  Get fresh air in, dryer exhaust out, cats out, or squirrels in.  Piece of cake!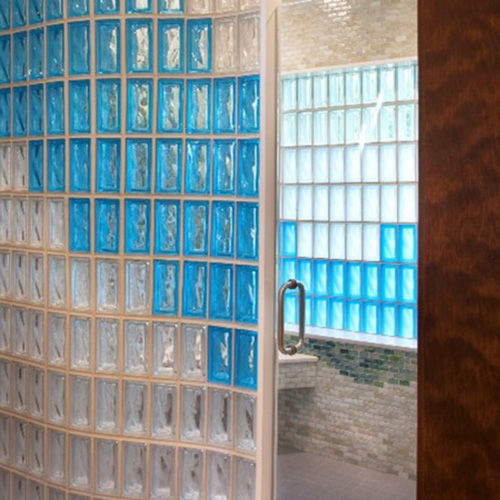 Walls & Showers
The 2nd most popular use of glass block in a residential application is in showers.  Rather than more tile, walls are constructed from glass block.  The effect is a less "dungeonous" shower stall where the shared light makes the stall feel bigger.
Standard Walls
Dividing rooms with glass block will make the rooms feel bigger than they really are.  Various transparency options and even colors are available to maintain whichever level of privacy your project requires.
3d Shape Walls
Want to add another dimension to your dividing or exterior wall?  We have several patterns that include blocks with 22.5° and 90° corners, and even radius shaped blocks in their selection.  Serpentine walls, or simple 90° turns are easy! 
Custom Designs
Want something truly unique?  We have the largest selection of colors, patterns, and finishes available in the glass block world through SEVES.  Checker boards, flutes, waves, and even mixing different sizes together with or without color can make a truly unique wall!
Etched Block Walls
Unique on a whole new level!  Can't find the glass block pattern that suits your décor?  How about a wall or window with a custom laser engraved scene spread across the entire window?  Mountains, ocean, forest, or perhaps something more personal like your favorite team, cause, or even family?  We can engrave virtually any image, graphic, or text onto either individual blocks, or spread over the entire window or wall!
Learn What Glass Block You Need
Discover the versatility of glass blocks for a wide range of building projects. Whether you're designing walls, commercial-grade bars, or seeking a unique architectural element, glass blocks offer an exceptional solution. As a durable, distinctive, and cost-effective building material, glass blocks benefit your construction or renovation project.
Enhance Your Space with Glass Block: Glass block's ability to allow light to pass through while offering varying levels of transparency adds a captivating dimension to your build that few other materials can match. Whether aiming to create a bright, open atmosphere or a more private and intimate setting, glass blocks can achieve both. Their unique properties make them versatile for architects, designers, and DIY enthusiasts alike.
Durable and Reliable: Glass blocks are known for their durability, making them an excellent long-term investment for any building project. Their sturdy construction provides lasting structural integrity, weather resistance, and security. Their ability to withstand harsh elements and maintain their aesthetic appeal makes glass blocks a reliable choice for interior and exterior applications.
Affordable and Cost-Effective: In addition to their durability, glass blocks offer an affordable alternative to traditional building materials. Their efficient installation reduces labor costs, and their low maintenance requirements save time and money over the long term. You can achieve a high-end look and functionality by choosing glass blocks without breaking the budget.
3 Inch Glass Block
3 Inch glass block is used primarily for windows (Basement, Bathroom, Garage, and other replacement windows).
3 Inch glass block can be used for interior and exterior walls.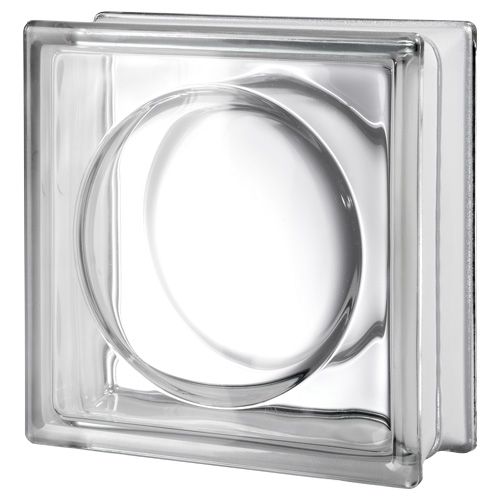 Thickness
Glass block thickness will affect strength, sound deadening, insulation value, and light transmission levels
Height & Width
Glass block height & width will affect patterning and window fitment.
Pattern & Color
Glass block surface & color will affect light transmission, light color, and privacy. We offer moderate privacy and enhanced privacy options.
Premiere 4 Inch Glass Block
Premiere 4 Inch glass block is used primarily for construct-on-site commercial applications like shower walls and bars.
Premiere 4 Inch glass block can be used for interior and exterior walls.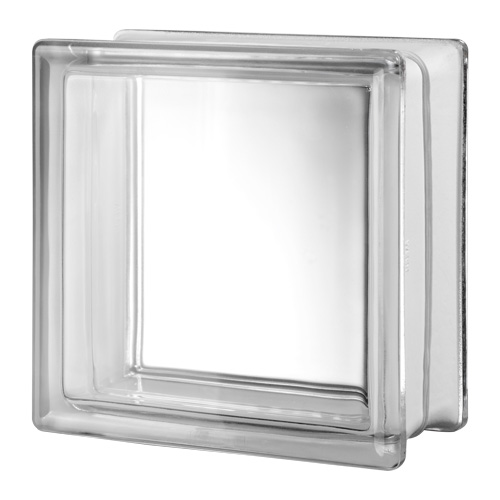 Thickness
Glass block thickness will affect strength, sound deadening, insulation value, and light transmission levels
Height & Width
Glass block height & width will affect patterning and window fitment.
Pattern & Color
Glass block surface & color will affect light transmission, light color, and privacy. We offer moderate privacy and enhanced privacy options.
Enhance Privacy with Glass Block Windows
At Cincinnati Glass Block, we understand the importance of privacy in your living spaces. Our glass block windows offer an exceptional solution to create a private and secure environment without compromising natural light. Here's how:
Obscurity and Privacy: Our glass block windows come in various patterns, such as Wavy, Diamond, and Ice patterns, which provide a high level of obscurity. These patterns allow light to pass through while obscuring direct views, ensuring privacy for your home. Whether you want to create a secluded bathroom or a private living area, our glass block windows offer the perfect balance of privacy and illumination.
Customized Privacy Levels: We offer different levels of transparency in our glass block patterns, allowing you to choose the ideal amount of privacy for your specific needs. From more translucent options to patterns with a higher degree of obscurity, you can create a space that suits your preferences.
Versatile Applications: Our glass block windows are versatile and can be installed in various areas of your home, including bathrooms, basements, and entryways. These areas often require privacy without sacrificing the entry of natural light. Our glass block windows provide a stylish solution to address these privacy needs while enhancing the aesthetic appeal of your space.
Functional Design: Besides privacy, our glass block windows are functional. They are durable, weather-resistant, and provide thermal insulation, ensuring a comfortable and secure environment in your home. You can enjoy the benefits of privacy without compromising on other essential aspects of a well-designed window.
Experience the perfect blend of privacy, natural light, and style with our glass block windows. Transform your living spaces into serene retreats that offer both tranquility and illumination. Choose from our range of patterns and transparency options to create a space that suits your unique privacy requirements.

Dianne
Cincinnati
"I am extremely pleased with the look and appearance of my new windows! WOW!! I wish I had this done sooner"

Nancy
Covington
"Installer was polite, courteous, and efficient. " 

Holly
Cincinnati
"What an improvement these windows have made! Thank you!"

Linda
Dayton
"I feel more secure with these windows. Since I am getting older, I need to feel safe…"

Laura
Cincinnati
"I have already recommended your company to a relative. "

Hideo & Louisa
Dayton
"Quick and excellent job completed!"

Moon
Cincinnati
"Everyone was early for their appointment and the sales rep was not overbearing. The installer was great; worked efficiently, and cleaned up afterwards."


Glenda
Dayton
"If I come in to contact with anyone that needs block windows, I will recommend you first! Thank you!"

Antonio
Hamilton
"I am so pleased with my windows. Thank you!"

Eli
Dayton
"The installer and assistant were very professional and experts. Love the good service & my new windows!"

Zachary
Fairfield
"Fantastic job ladies and gentlemen!"

Debbie
Ft. Wright
"The installer did an excellent job. Very Courteous, efficient and clean."


Paul
Brookville
"Very satisfied with all concerned"

Jamie
Covington
"The sales person was very nice and correct on his quote. The installer was fast and efficient, did a perfect job."

Cynthia
Dayton
"I'm very happy with my new windows!"

Karl
Springboro
"Everyone was professional & courteous. The basement windows look great!! Thank you!"

Anita
Cincinnati
"Very nice! Salesman was not pushy at all"


Edith
West Carrollton
"I just had my Glass Block windows installed. I am extremely pleased with the result since the old ones were original with the house in 1959. I have showed my neighbors and friends. "

Bill
Cincinnati
"Great job! Wish I had done it sooner."

Dick
Dayton
"I simply want to take this time to express my thanks for the wonderful job that your company did last month…I will be passing on to anyone that asks who did my windows that I highly recommend your company!"

Tim
Alexandria
"I am writing this to applaud the professional work by your company. I am very satisfied and will recommend your company to everyone. Thanks for such a fine job and at a fantastic price."

Viola
Fairfield
"Very nice job! Workers were fast & cleaned up nicely."

Robert
Fairfield
"Am very pleased with the glass block windows. They look great, seal well, and add security to my home. Thus, am very happy having them in my home."

There is no better name in Glass Block. Cincinnati Glass Block provides block, installation, & consulting/design. For contractors we offer training classes. Contact us now and see how Glass Block can improve your home or business.